Anchoring Gratitude
Gratitude anchors us into the present moment of appreciation.
A simple and powerful tool that I have used for years and find particularly helpful in these challenging times is the gratitude list.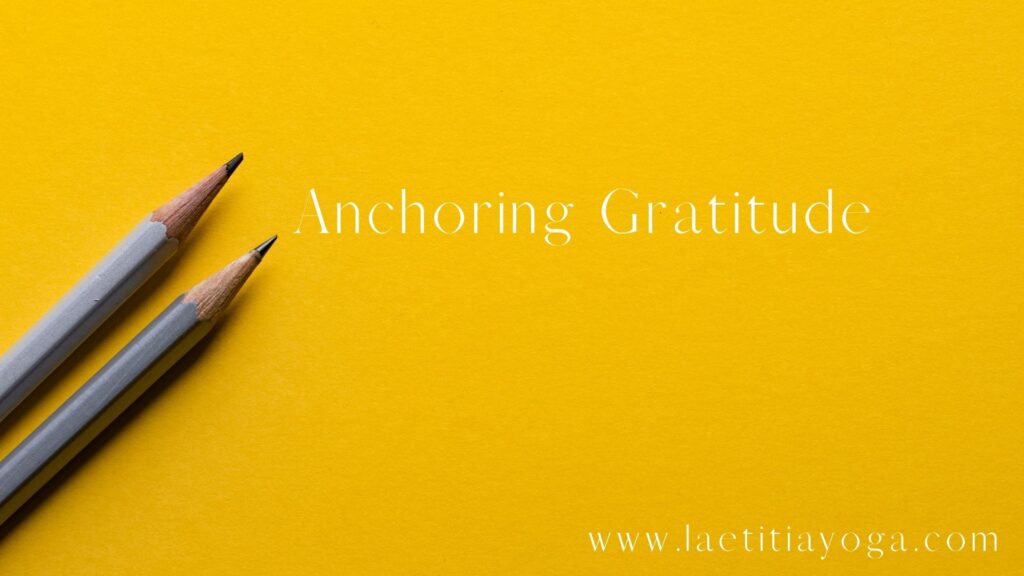 What you need: something to write on, placed close to your bed or on your desk.
How: Every night (and/or every morning), write down at least 5 things that were positive in your day. Regardless of the trials, you were faced with, write a list of things, people, events … that brought you well-being and made you feel grateful.
When confronted with a particularly trying day, it can be challenging, so I delve a little deeper and write things that I tend to consider "a given" such as:
-I am healthy -I have enough to eat -I have a comfortable bed -I have resources -The cat is purring – My neighbor smiled at me -There was no traffic on the freeway – I heard an interesting interview on the radio …
I find that when I put my thoughts in writing, I always find more that I am grateful for! Practicing this little exercise every day helps in finding the courage to embrace Life's inevitable changes and challenges.
In short, all the little details that give flavor to our daily lives, when fully recognized and appreciated, help us one day at a time to shine a light on the beautiful and the good around us. And … over the past two decades, studies have consistently found that people who practice gratitude report fewer symptoms of illness, including depression, more optimism, more happiness, and stronger relationships! Neuroscience proves it.
Cultivating gratitude is powerful!
Join us for a practice of slow mindful yoga online every Tuesday and Thursday at 6 pm!